The benefits everyone is entitled to
In Canada, there are three sources of retirement income, which are often known as the three pillars.
The first two pillars are government-sponsored programs. Pillar one is made up of Old Age Security (OAS) and the Guaranteed Income Supplement (GIS), available to people of retirement age, while the second is the Canada Pension Plan (CPP), available to those who worked and contributed to the pension plan.
The third pillar is made up of any workplace pension plan or personal savings and investments you may have.
How much you'll get from the first two, along with your plans for retirement, will determine how much you should set aside under that third pillar.
Also on MoneyWise
You can claim CPP as early as 60 years old, or as late as 70. But the sooner you start taking your payments, the less you'll receive every month. If you start taking your payments before 65, you'll lose out on 0.6% each month, or 7.2% a year — up to a maximum reduction of 36% for those who start at 60.
And if you wait past 65, your payments will increase by 0.7% each month you hold off on drawing your pension, or 8.4% per year. By 70, you'll hit the maximum increase of 42%.
Most advisors would suggest you delay drawing CPP as long as possible to maximize your benefits.
To qualify for CPP, you'll simply have to have made at least one valid contribution to the plan either through work you did in the country or having received credits from a former spouse or common-law partner at the end of your relationship.
This year, the maximum monthly amount new CPP recipients aged 65 will receive is $1,253.59. But the average monthly payment for retirees as of October 2021 was $702.77, according to Service Canada.
As for OAS, everyone who has lived in Canada for a minimum of 20 years after the age of 18 is entitled to claim this benefit once they turn 65. But to receive the full amount, you'll have to have lived in Canada for 40 or more years. In 2022, that full amount is $642.25 monthly.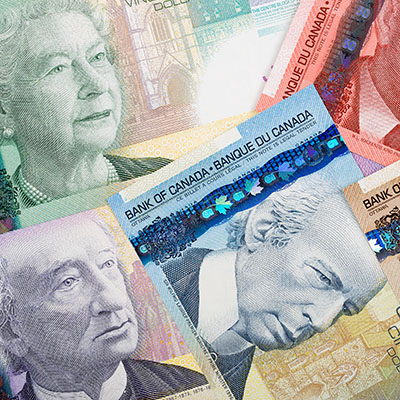 Good credit is important for your financial health, and Borrowell can help you take a turn for the better. Sign up for Borrowell to get your credit score and credit report for free!
Sign up
Low-income seniors get a little extra boost
For seniors living on reduced incomes, the government provides additional support through the Guaranteed Income Supplement (GIS) program.
To qualify for GIS, single seniors must earn less than $19,464 a year. And for couples, the threshold depends on whether you receive an OAS pension, but ranges between a maximum of $25,728 and $46,656.
Typically, the government will reach out to eligible seniors with a letter the month after they turn 64 to inform them when they'll start receiving GIS payments. However, some pensioners will need to apply for this non-taxable income if the government doesn't have enough information to automatically enroll you.
Payments will then begin once you turn 65. The maximum monthly amount ranges from $577.43 to $959.26, depending on your marital status and income. And as this is supplemental income for Canada's low-income seniors, the government will review your situation on an annual basis based on your tax return.
What about support from the provinces?
Not every province has additional retirement benefit plans.
In Ontario, the provincial government announced a provincial pension plan in 2015, designed to supplement income for 3.5 million Ontarians who don't have workplace pensions. But that program was cancelled the following year when the provinces and federal government agreed to boost CPP benefits instead.
In Quebec, the Quebec Pension Plan (QPP) replaces CPP benefits for retirees. The programs work similarly and share the same maximum pensionable earnings and annual basic exemption, however QPP contributors pay a slightly higher rate on their contributions.
British Columbia, Alberta, Saskatchewan, Manitoba, Ontario, New Brunswick, Newfoundland and Labrador and all three territories all have additional benefits for low-income seniors to supplement their OAS and GIS benefits.
Quebec, on the other hand, offers a refundable tax credit for its seniors living on reduced incomes. And Nova Scotia and Prince Edward Island both offer grant programs for low-income seniors either to stay in their homes longer or to repair them.
As you can see, the various programs available can get pretty complicated. Whether you're approaching retirement or whether it's still decades away, it's a good idea to stay on top of old-age benefits, so you can plan appropriately for retirement.
Sponsored
You're 5 minutes away from the best mortgage
Searching for your perfect mortgage shouldn't be hard.
Homewise is an online brokerage that will negotiate on your behalf with more than 30 big banks and other lenders, completely free, and it only takes five minutes to apply.
If you're in the market for a new mortgage, or if you're looking to refinance before interest rates rise again, go to Homewise now and answer a few simple questions to get started.