Vaccines could hold key to recovery The bank says the labour market continues to add jobs that were lost at the outset of the pandemic, even though the pace is slow. Economic momentum was strong heading into the fourth quarter, but a second wave of COVID-19 — including record numbers of cases in many parts of Canada — is forcing new restrictions.
The update from the central bank came the same day that Health Canada approved drugmaker Pfizer's COVID-19 vaccine.
"News on the development of effective vaccines is providing reassurance that the pandemic will end and more normal activities will resume," the Bank of Canada said in its statement.
But there could be a wait before a vaccine is widely available, and the bank expects economic growth will have a "choppy trajectory" for the early part of 2021.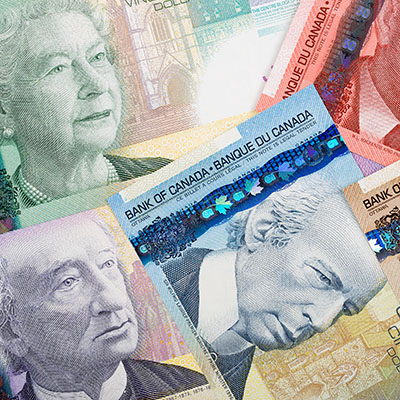 Good credit is important for your financial health, and Borrowell can help you take a turn for the better. Sign up for Borrowell to get your credit score and credit report for free!
Sign up
How does this affect Canadians? The statement included a reminder that the Bank of Canada expects to hold its benchmark interest rate steady until inflation rises to 2%, which might not happen until sometime in 2023.
So, what does the bank's ultra-low rate mean for everyday Canadians?
The overnight rate is what banks pay to borrow money from one another, and while that doesn't directly control the interest you pay on your loans, it does influence the rates for consumers.
A low overnight rate typically means banks will pass those savings on to you by lowering the prime rate — the rate they charge their top customers. Canada's current prime rate is 2.45%, the lowest it's been since the financial crisis of 2008.
The bank meets every six weeks to re-evaluate its interest rate, which is adjusted depending on whether the economy needs a boost or needs to cool off. A lower rate will encourage more borrowing and, officials hope, allow Canadians to inject more money into the economy.
Low rates helping borrowers cut costs Thanks to the Bank of Canada, borrowers — especially those rocking a solid credit score — won't find better loan conditions than those available today.
In the market for a new home? Today's mortgage rates are stunningly low, and that means you can secure a home loan and pay far less in interest than your neighbours who bought last year. If you did lock in at a higher rate, you might be able to refinance your loan and slash hundreds off your monthly bill.
The key to finding the best rates: shop around. Even when average rates are low, mortgage rates can still vary from one lender to the next. Do your homework and gather at least five different rate quotes to find the best deal.
Sponsored
You're 5 minutes away from the best mortgage
Searching for your perfect mortgage shouldn't be hard.
Homewise is an online brokerage that will negotiate on your behalf with more than 30 big banks and other lenders, completely free, and it only takes five minutes to apply.
If you're in the market for a new mortgage, or if you're looking to refinance before interest rates rise again, go to Homewise now and answer a few simple questions to get started.