What is a cash-back credit card? A cash-back credit card earns you a percentage of money back from your spending on that card — anywhere from 1% to 5% back from every purchase.
To get your cash, you may have to reach a certain threshold, such as when you have a balance of at least $20 in reward money.
You may take the cash as a cheque, or have it deducted from your credit card bill, or receive it in the form of a gift card.
But why do card companies give away money? When card companies give you rewards, they aren't taking a loss so much as sharing a profit.
Card issuers charge merchants fees for every transaction. With rewards cards, the issuers simply pass some of those earnings on to you (say 2% of every 3% they collect) to incentivize people to sign up for the card.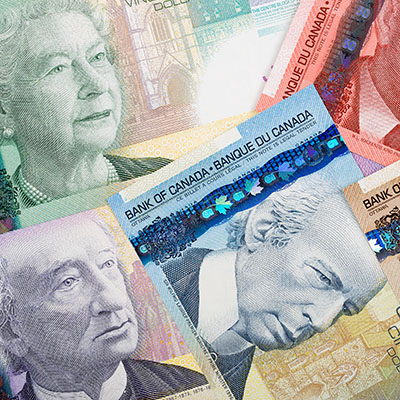 Good credit is important for your financial health, and Borrowell can help you take a turn for the better. Sign up for Borrowell to get your credit score and credit report for free!
Sign up
What are the types of cash-back cards? Cash-back credit cards come in three main categories:
Flat percentage
Tiered rewards
Bonus category
Flat percentage cash-back cards are just as they sound — they pay cash back at the same rate for all purchases.
These cards are best for people who want something back without having to overthink it. The trade-off for this convenience is that you typically only earn 1% or 2% for each transaction.
Tiered rewards cards are great for people who tend to spend more on certain things.
If you do all the grocery shopping for your household and a lot of the driving, a tiered rewards card that pays a higher percentage for groceries and gasoline may be an excellent option. You'll get a smaller return on other purchases.
Bonus category cards are for dedicated rewards earners. They offer high rebates of up to 5% in specific spending categories, such as at restaurants.
The bonus categories can change every quarter, and you may have to register, or "opt in," for the bonus category each quarter.
Spending that earns the bonus may also be capped at a certain amount, like $1,500 during the quarter; and purchases in other categories will likely earn you just 1% cash back.
How do you master cash-back rewards? Choose a card that best suits your lifestyle and spending habits, and that won't lure you into spending more than you should, just to chase after rewards.
Never buy what you don't need. Track your spending for a month, and then pick a card that matches what you already spend.
Always make sure you pay off your balance each month.
Credit card interest rates have been hovering around 19% on average. That's way higher than rewards earnings. Rolling over your balance for a couple of months can quickly eat away at your returns.
Sponsored
You're 5 minutes away from the best mortgage
Searching for your perfect mortgage shouldn't be hard.
Homewise is an online brokerage that will negotiate on your behalf with more than 30 big banks and other lenders, completely free, and it only takes five minutes to apply.
If you're in the market for a new mortgage, or if you're looking to refinance before interest rates rise again, go to Homewise now and answer a few simple questions to get started.