How long will rates stay low? What the Bank of Canada is doing is holding down its "overnight rate," the interest rate banks charge when they make short-term loans to one another. As the overnight rate falls, so does the banks' prime rates, the interest they charge their most valuable customers.
By leaving the overnight rate untouched at what it calls "the effective lower bound," the central bank is indicating it believes the economy is not yet healthy enough to operate under normal conditions. And, it's encouraging Canadians to keep borrowing money at discounted rates and get it circulating in the economy.
The BoC is waiting for Canada's inflation rate to reach 2% before raising interest rates again. It previously said that wasn't likely to happen until 2023, but on Wednesday the Bank said it now expects the inflation target to be hit during the second half of 2022.
That means a rate hike could come next year, which doesn't surprise Sherry Cooper, chief economist at Dominion Lending Centres.
"The economy is much stronger than expected — confidence is up, labour and housing markets are strong, and fiscal stimulus is humongous," she says.
BMO's chief economist, Douglas Porter, says a speedy recovery in the job market could cause the Bank to lift rates even earlier.
"There is the real prospect that when things reopen we could get a faster-than-expected increase in employment, which could be a trigger," Porter says. "That's especially the case with a hot housing market, a comeback in commodities, and big fiscal spending."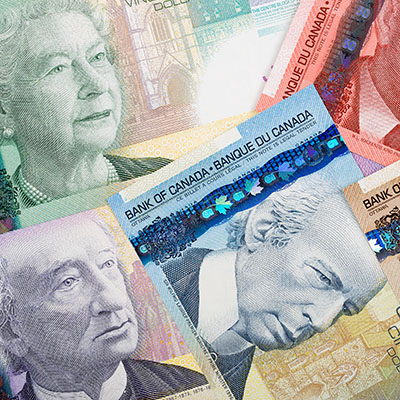 Good credit is important for your financial health, and Borrowell can help you take a turn for the better. Sign up for Borrowell to get your credit score and credit report for free!
Sign up
What it all means for mortgages and housing For now, as it continues to hold down rates, the BoC hasn't given homeowners and homebuyers anything to worry about.
Had the Bank of Canada increased its overnight rate, prime rates would have gone higher, and the owners of variable mortgages would now be preparing for higher interest costs. Instead, those rates will remain very cheap.
As for fixed-rate mortgages, they've been creeping higher but are still at historically low levels. That means so long as you've got a solid credit score, you can still get an excellent deal on a loan.
But if you're shopping for a home and wondering whether you'll find something affordable, well, that's another question. And don't expect the Bank of Canada to step in and do something about the country's out-of-control housing prices.
"The BoC does not target housing, it targets inflation," Cooper says, adding that the Bank would need to increase the overnight rate substantially to have any kind of cooling effect on housing demand and prices.
"They don't want to harm other parts of the economy just to control housing," says Porter. "Not when we are still knee-deep in pandemic restrictions and the unemployment rate is still above 7%."
Still, he says: "I do believe the Bank should express some concern over hot housing, and should caution Canadians that these low-low rates likely won't be with us forever."
Mortgage borrowing remains affordable Even though the overnight rate is staying as-is, mortgage rates in Canada have been on a steady climb this year. If you're planning a foray into the housing market, or are considering refinancing your mortgage, you may want to start comparing rates now before they have a chance to inch even higher.
If you're a first-time homebuyer, you'll need to ensure that your credit is in tip-top shape. Check your credit score for free today and see where yours currently sits.
The higher your credit score, the lower your mortgage rate is likely to be, so see what you can do to raise your score a few notches.
No matter your homebuying plans, be sure to find a mortgage adviser you can trust. Make some calls, ask some questions and pay attention to what you're asked by each person you talk with.
A good mortgage broker will be concerned about your long-term financial goals, not just getting one deal over the finish line.
Sponsored
You're 5 minutes away from the best mortgage
Searching for your perfect mortgage shouldn't be hard.
Homewise is an online brokerage that will negotiate on your behalf with more than 30 big banks and other lenders, completely free, and it only takes five minutes to apply.
If you're in the market for a new mortgage, or if you're looking to refinance before interest rates rise again, go to Homewise now and answer a few simple questions to get started.