Spread your money around — in one place
Mutual funds collect capital from investors that they use to purchase a combination of stocks, bonds and other securities that they expect will generate the strongest returns. The funds, run by portfolio managers who choose assets to buy and sell, are often categorized according to risk tolerance and investor objectives, like growth or fixed income.
A large Canadian bank, for example, might offer several mutual funds, each one targeting a different kind of investor. One might be weighted heavily in bonds, with minimal exposure to the stock market, as a means of tamping down risk. Another might be brimming with growth stocks that have the potential for impressive short-term returns in exchange for taking on greater risk.
You purchase shares in a mutual fund as you would with stocks or an exchange-traded fund, but unlike those assets, which trade on public markets like the Toronto Stock Exchange, you can only purchase mutual fund shares directly from the fund or through a broker, although "broker" can also refer to robo-advisors.
A mutual fund's share prices are determined by dividing the value of the securities it holds by the number of shares outstanding. The share price fluctuates as the value of the securities in the fund are reassessed at the end of each business day.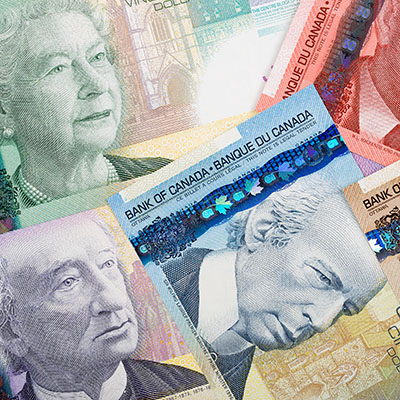 Good credit is important for your financial health, and Borrowell can help you take a turn for the better. Sign up for Borrowell to get your credit score and credit report for free!
Sign up
How you make money from a mutual fund
Mutual funds can provide multiple income streams, but your returns will primarily take the form of distributions.
Those are payments to investors based on the income a fund receives over the course of a year. The size of your distribution will depend on how many shares you owned at a specific time, known as the "record date." How often a fund pays its distribution varies.
You can receive your distribution in cash or reinvest it into the mutual fund. Regardless of what you choose to do with your profits, expect to pay taxes on them.
That's not the only time your mutual fund will generate costs. Because these funds require management by highly skilled, highly compensated experts, the associated fees can be quite high, as can the commissions, which are referred to more benignly as "loads."
Even with the costs involved, mutual funds remain a favourite investment. And with good reason: They're a reliable way to add diversification to your portfolio without the risk of picking individual stocks or bonds.
Sponsored
You're 5 minutes away from the best mortgage
Searching for your perfect mortgage shouldn't be hard.
Homewise is an online brokerage that will negotiate on your behalf with more than 30 big banks and other lenders, completely free, and it only takes five minutes to apply.
If you're in the market for a new mortgage, or if you're looking to refinance before interest rates rise again, go to Homewise now and answer a few simple questions to get started.