Figuring out where you fall in the average
In addition to finding an average score for Canada, Borrowell also broke down averages by city. Canada's top-ranking cities are Markham, Ont., Vancouver and Burnaby, B.C.
But what if you're falling short of your local or even the national average? Andrew Graham, co-founder and CEO of Borrowell, says it's not the end of the world.
"Finding out that your score is lower than you expected, or lower than you want it to be, is a great place to start the journey or continue that journey towards improving your score," says Graham.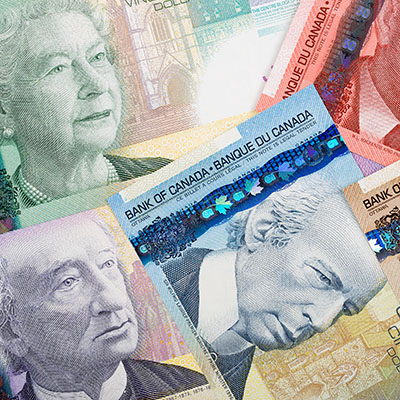 Good credit is important for your financial health, and Borrowell can help you take a turn for the better. Sign up for Borrowell to get your credit score and credit report for free!
Sign up
What's behind this trend
Matt Fabian, director of financial services and research for TransUnion, says the credit reporting agency has also noticed scores have been improving over the past few years.
Part of what Fabian believes has contributed to that is simply that more people than ever are aware of their scores these days.
But he adds that this three-digit number tends to fluctuate. What's important are the underlying behaviours that are associated with good credit.
"The credit score is a snapshot in time," says Fabian. "It can change over time to reflect changes to how you're behaving."
One of the most important factors that affects your score is your payment history. Both Graham and Fabian agree staying on top of your monthly payments goes a long way towards improving your score.
Fabian adds as long as you're sticking to those good behaviours, like making your payments on time, lenders are going to notice that your score is trending in the right direction.
"There might be a little volatility … but more and more lenders are looking at those trends," says Fabian.
He offers an example: two people might both have a 700 score. But when you look at their history, one might have started at 500, while the other was originally at 800.
They both currently have good scores, but the first has obviously been demonstrating commitment to good credit behaviours and that's something lenders will take note of.
Don't get fixated on rankings
Fabian says credit score averages in general should be taken with a grain of salt — adding that sample sizes of massive cities include everyone from CEOs to customer service representatives.
Credit scores aren't related to income, Fabian notes.
"Instead of comparing your raw score, because it's just a point in time … maybe look at how you're trending and say, 'Am I going upward?' … if you're looking and you're saying my credit score is improving, then that's great."
Sponsored
You're 5 minutes away from the best mortgage
Searching for your perfect mortgage shouldn't be hard.
Homewise is an online brokerage that will negotiate on your behalf with more than 30 big banks and other lenders, completely free, and it only takes five minutes to apply.
If you're in the market for a new mortgage, or if you're looking to refinance before interest rates rise again, go to Homewise now and answer a few simple questions to get started.