Pros
Very user-friendly.
Checking your credit score is free.
Offers products and services tailored to your personal profile.
Clearly outlines the terms of each loan or credit card, as well as your "approval chance."
Credit Coach tells you why you're stuck at a certain score and provides tips on improving.
Cons
Options for loan terms and amounts are limited.
Users can only pay on a monthly basis.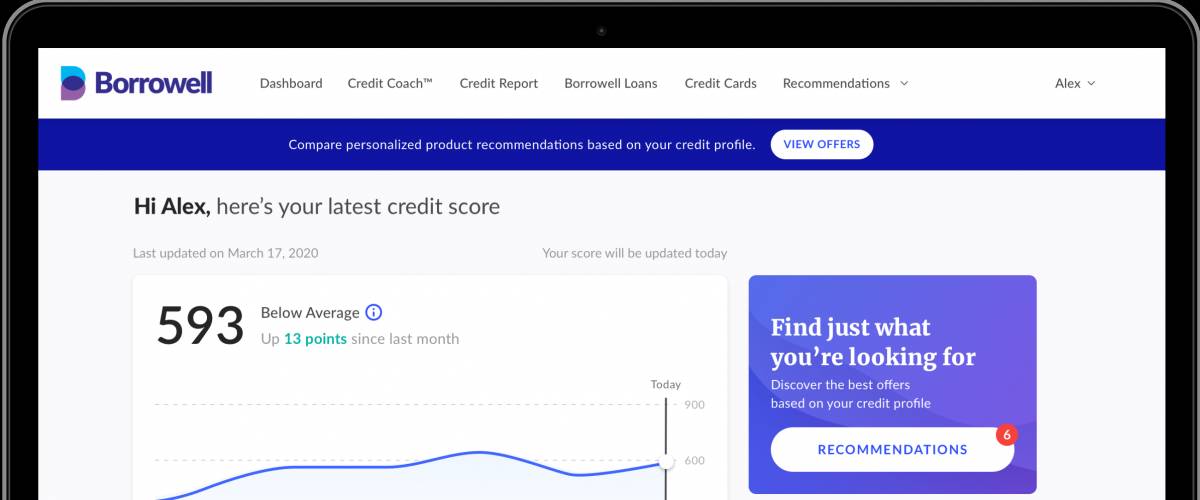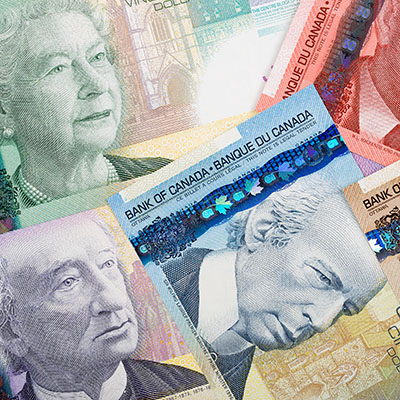 Good credit is important for your financial health, and Borrowell can help you take a turn for the better. Sign up for Borrowell to get your credit score and credit report for free!
Sign up
How does Borrowell work?
A full 57% of Canadians have never once checked their credit score, according to a 2017 Ipsos poll. If you're part of that group, you should know checking your credit score with Borrowell is a breeze.
Everything was done online, and I just had to answer a few questions regarding my banking institution and personal information. I didn't need to rummage in my wallet for my credit card or provide my social insurance number.
And the best part, of course, is that it's free.
Now, Borrowell isn't the only digital service that provides free credit scores. Credit Karma does that for you, too, and you may be able to get one through your bank's mobile app.
Those scores will come from one of two credit bureaus: either Equifax or TransUnion. Borrowell pulls from Equifax, while Credit Karma and most of the big banks get TransUnion to produce your score.
Why does that matter? Well, lenders could look at either one of these scores, and some will look at both. So even if you already have access to your TransUnion score, seeing both would give you a more complete picture of your creditworthiness — and tip you off if one bureau's reporting is out of whack.
Borrowell also can tell you why you're stuck at a certain score — for example, you might have a brief credit history or you stick to only a single kind of credit — and will recommend products that can give you a boost.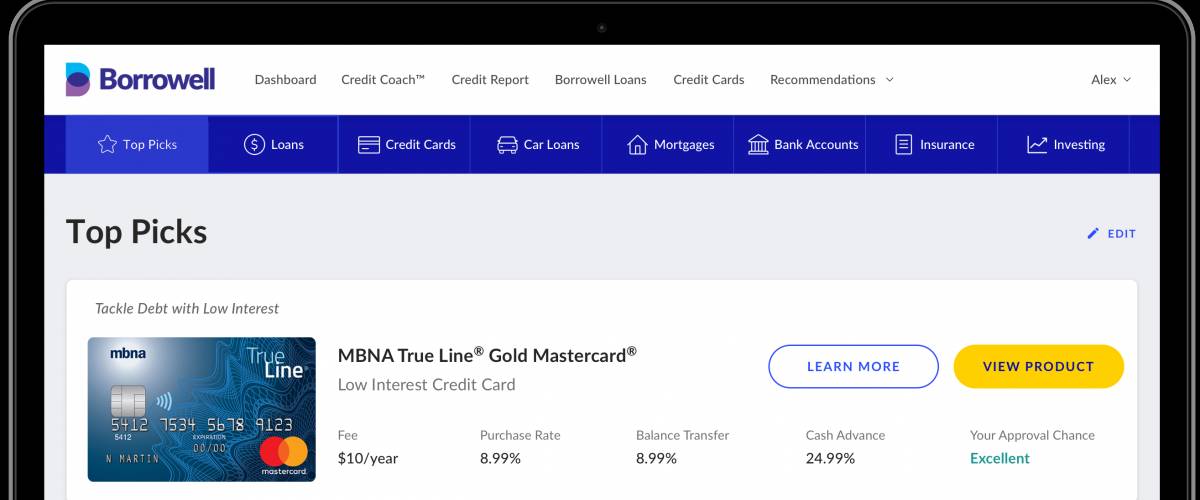 What about its other features?
Borrowell uses your credit history to present you with a variety of financial products that fit your needs, including personal loans, mortgages, bank accounts, insurance policies and credit cards.
When it recommended some credit cards for me, I was able to get a clear picture of the benefits and interest rates I could get without having to fill out an application.
Best of all, Borrowell will even tell you how likely it is you'll be approved for a particular product before you apply. That's a serious perk, not just a matter of convenience.
When you apply for new credit, like a mortgage or credit card, the lender makes a "hard inquiry" against your credit report, and your score can take a hit. (Requesting your credit score is a "soft inquiry" and doesn't bring it down.) If you know you're unlikely to be approved, you can forgo the application, preserve your score and increase your chances in the future.
Plus, if you're having trouble keeping track of your monthly payments, you can try out Borrowell Boost for free for 30 days. The feature predicts your bills and income to help you prepare — late payments will make a big dent in your credit score — and alerts you when your bank account balance is low or there's a due date coming up.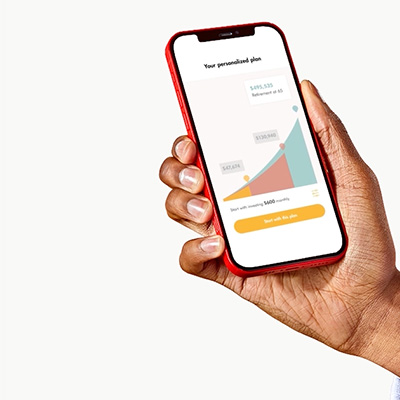 Get a $25 bonus when you open and fund your first Wealthsimple Investment account* (min. $500 initial deposit). Trade and Cash accounts are not eligible. Sign up now to take advantage of this special offer.
Get started
What are some of the drawbacks?
While Borrowell offers some fantastic free services, I found its loans restricting. It only provides two options for terms: three years and five years. So if you think you're going to need more time to pay off your debt, this might not be the right choice for you.
The amount you can borrow is also limited. Borrowell allows customers to carry only one loan at a time, and you can only apply for between $1,000 and $35,000. Banks and fintech lenders typically offer personal loans of between $500 and $50,000.
Users pay on a monthly basis, and you get to choose what day of the month you'd like to make your loan payments on. You can also make prepayments, or lump sum payments, without incurring any penalties.
However, the service doesn't include a biweekly payment option, which is a popular way to save money on a loan. If you could make loan payments every other week instead of monthly, that would be the equivalent to making 13 monthly payments instead of 12 per year. So you'd end up paying your loan off faster and saving a chunk of money on interest.
When you apply for loans, Borrowell charges a one-time origination fee, between 1% to 5% of your loan amount. As with any lender, be sure to submit your payments on time and in full. Borrowell will charge users between $25 to $54 if you have insufficient funds in your bank account when your monthly payment is due.
Borrowell says its interest rates for personal loans start at 5.6% APR for the best-looking borrowers, though its average APR is actually around 11% to 12%. The service is pretty transparent about its rates, so you're not at risk of being tricked into anything you don't want.
Plus, if you don't like its own offers, [Borrowell can help you compare quotes for personal loans from a range of other financial institutions.
How often does Borrowell update its credit score?
Borrowell monitors your credit on a monthly basis, updating your credit score and report each time so you can keep track of changes and detect any anomalies.
If something seems off — maybe some missed payments showed up in your credit report — you can glance back at your bank statements to check for fraud or errors.
You also get to see whether you've been improving your financial health over time.
Molly, Borrowell's AI Credit Coach, shows you how your score compares to the rest of Canada, informs you when you're making good financial decisions and notifies you with updates on credit usage and any payments you've missed. This free service, however, won't alert you if you have payments coming up.
Is Borrowell's credit score accurate?
Yes. Just because your Borrowell credit score may differ from the one your bank provides, that doesn't make it any less accurate.
Different credit bureaus have access to different information and use different models to score your credit.
Generally, TransUnion credit scores tend to be higher than Equifax scores. In fact, my Borrowell credit score was about 50 points lower than the number my bank provided.
Is Borrowell safe to use?
You might be worried about giving a third party access to your credit information, but Borrowell says it invests heavily in fraud detection and protection tech to safeguard your identity and financial information. The site says it provides "bank-level security with 256-bit encryption."
Borrowell adds that it won't share your personal information with unauthorized third parties or initiate transactions without your consent.
The bottom line: How good is Borrowell?
Accessing my credit score and report was easy — it took me about two minutes to fill in my personal details and answer a couple questions — and I appreciated the free quotes on loans I might be eligible for.
I also got a pretty good idea of how I could improve my credit score and what was holding me back.
However, while the free credit reporting service is incredibly helpful, I found the loan options lacking. As a result, we've awarded Borrowell 4 out of 5 stars. Its offers will work for some people, but you can find more flexibility elsewhere.
Should you sign up with Borrowell? Even if you're not interested in applying for loans or credit cards, it's hard to argue with the value of its free services. Just try out the complimentary credit monitoring and take things from there.
The MoneyWise editorial team developed a grading system — taking into account fees, features and other factors — to prescribe the star rating shared in this first-person review. The opinions and writing in this article are solely my own, conveying my experience with Borrowell as a product. Other customer's outcomes may differ.
Sponsored
You're 5 minutes away from the best mortgage
Searching for your perfect mortgage shouldn't be hard.
Homewise is an online brokerage that will negotiate on your behalf with more than 30 big banks and other lenders, completely free, and it only takes five minutes to apply.
If you're in the market for a new mortgage, or if you're looking to refinance before interest rates rise again, go to Homewise now and answer a few simple questions to get started.