1. Toronto-Dominion Bank (TD) This member of the big five bank club was created by the 1955 merger of the Bank of Toronto and the Dominion Bank. As of Q2, TD held about C$1.7 trillion in assets, making it Canada's largest bank in terms of assets.
The stock has fallen over the past month, but given TD's massive scale advantages, its current dividend yield of 3.9% — slightly higher than that of close rivals Royal Bank (3.3%) and Bank of Montreal (3.3%) — is tough to pass on. And with about 11% annualized growth, TD has a strong and consistent dividend history.
The company currently generates about 35% of its revenue in the U.S. When you combine that geographic reach with the bank's conservative lending practices, risk-averse investors might want to take a closer look.
There are popular investing apps that'll give you a free stock for your first investment as well.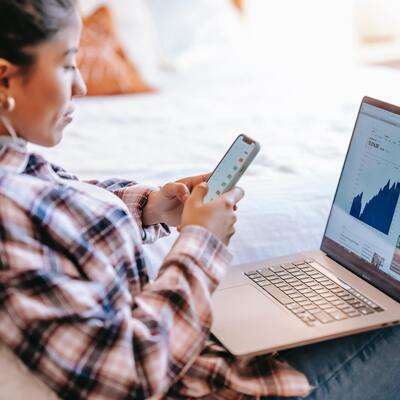 With Qtrade Direct Investing™, you can build, evaluate and test your portfolio using analyst research and tools that feature their most advanced risk analysis and portfolio-building technology.
Now get up to $150 sign-up bonus until June 30, 2023 with promo code BONUS150.
Division of Credential Qtrade Securities Inc.
Get Started
2. Fortis (FTS) This utilities giant operates regulated gas and electric energy services in Canada, the U.S., Central America and the Caribbean.
As of June this year, the company controlled $56 billion in assets and served about 3.4 million customers.
Fortis doesn't just boast a stable record of dividend payments: It has increased its payout to shareholders for 47 consecutive years. And for prospective investors, management has planned 6% annual average dividend growth through 2025.
Given Fortis' highly regulated operating environment and five-year beta of just 0.06 — meaning the stock is far less volatile than the overall stock market — its current dividend yield of 3.5% looks particularly attractive.
Some popular investing apps not only allow you purchase dividend stocks like Fortis, but "slices" of shares as well.
3. BCE Inc (BCE) The publicly traded holding company for Bell Canada traces its roots back to Alexander Graham Bell's 1876 filing for a Canadian patent for the Bell telephone. It now provides internet and television services, and runs recognizable media brands CTV, TSN, Crave and iHeartRadio.
BCE shares have risen steadily over the past year, up about 23% since September of 2020. But with a current dividend yield of 5.4% — higher than that of rivals Rogers Communications (3.1%) and Telus (4.3%) — there might be plenty of room for BCE shares to run.
Since Q4 2008, the company has increased its annual dividend by 140%. BCE's scale advantages and highly regulated operating environment should be able to easily support continued long-term hikes.
Those looking to take control of their investments should certainly explore online trading platforms. The best sites offer resources and tools to help investors make informed decisions as they build and manage their investment portfolios.
Going with a robo-advisor can also be a stress-free way to start investing.
Sponsored
Invest with ease
From new investors to experts, Qtrade Direct Investing™ offers an intuitive experience with features including in-depth research and powerful tools.
Recognized by The Globe and Mail as a top-ranked broker for the 4th year in a row, you can count on Canada's best online trading support for friendly and responsive client service and online self-help.
Get started today with no minimum investment and now get up to $150 sign-up bonus until June 30, 2023 with promo code BONUS150.
Division of Credential Qtrade Securities Inc.