And while I can't speak to every service they offer (I haven't yet invested $100K, much less $500K, to take advantage of their premium services like Wealthsimple Black and Wealthsimple Generation) the most useful thing I can share is what it's like to start using Wealthsimple as a total beginner — because that's who I was when I started with them.
Note: If you sign up through the links in this article, Wealthsimple will kick in a $50 bonus when you fund your account with $500.
What is Wealthsimple?
Wealthsimple is a robo-advisor that helps you invest your money at a low cost, using Nobel-prize-winning investment principles — and it's entirely beginner-friendly.
Basically, they make investing your money much easier than it used to be. They have multiple account types you can use to invest your money and an online brokerage (Wealthsimple Trade) that you can use to trade stocks — plus they also offer a convenient payment tool (Wealthsimple Cash).
There are three major things you should know about Wealthsimple's investing options: the accounts they have available, the portfolios they offer and the different tiers of service you can get with them.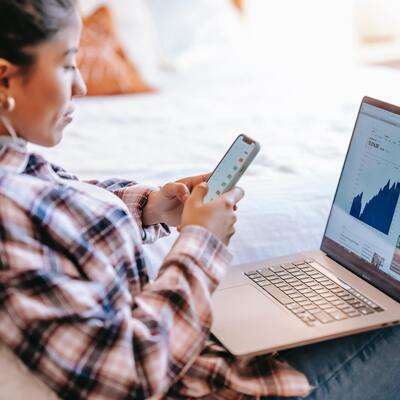 With Qtrade Direct Investing™, you can build, evaluate and test your portfolio using analyst research and tools that feature their most advanced risk analysis and portfolio-building technology.
Now get up to $150 sign-up bonus until June 30, 2023 with promo code BONUS150.
Division of Credential Qtrade Securities Inc.
Get Started
Wealthsimple's accounts
Wealthsimple offers most major account types you might want to use to invest.
Here's a full list for Canada:
Wealthsimple's portfolios
Like most robo-advisors, Wealthsimple builds your portfolio out of exchange-traded funds, or ETFs. They're convenient packages of different financial assets, similar to mutual funds.
Now, if you're really new to investing, your portfolio is just a fancy name for the group of investments you have your money in at a given time. Wealthsimple's model is based on offering some standard, low-cost portfolios that will be a great fit for most people, most of the time — and here's what that actually looks like.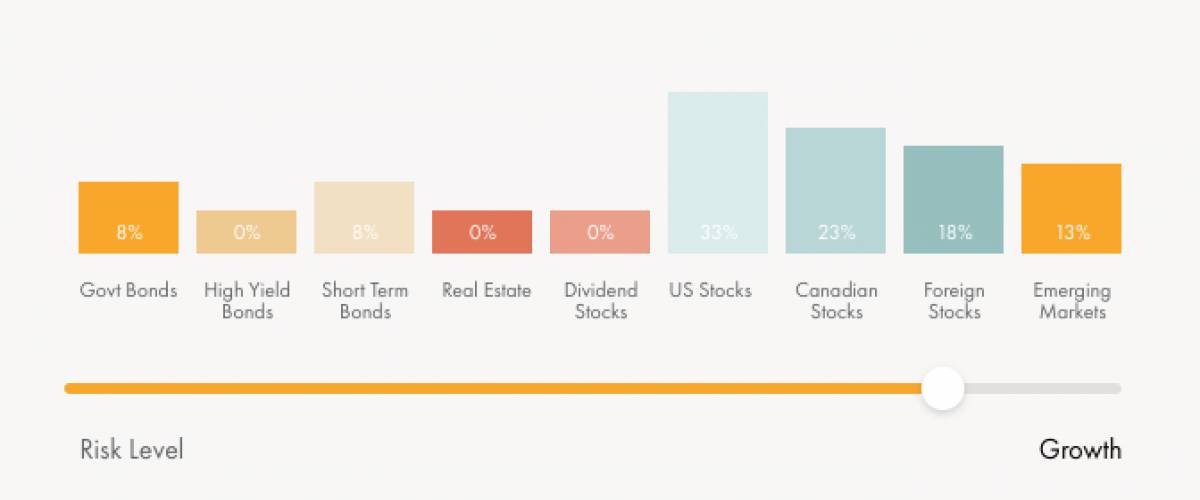 Depending on your risk level, Wealthsimple will adjust the amount of different investments you hold to align your investing with your goals. The portfolio above is for someone who's comfortable with more risk and likely has a longer time frame for investing.
On top of that, you can also use Wealthsimple's Socially Responsible Investing (SRI) portfolios, which use ETFs that are screened and weighted for social and environmental impact as well as investment performance. The fees for the ETFs in this portfolio are a bit higher than the traditional portfolios, but as someone who personally uses this one, I think it's worth it if it matters to you!
Or, if you've avoided automated investing because some of the companies in major funds conflict with your Muslim faith, you can use Wealthsimple's Halal portfolio, which is vetted by investment pros and Shariah scholars to comply with Islamic law. It's also just a great option if you'd prefer to avoid investing in companies that profit from gambling, arms, tobacco or other restricted industries, and you don't want to invest in companies that derive significant income from interest on loans.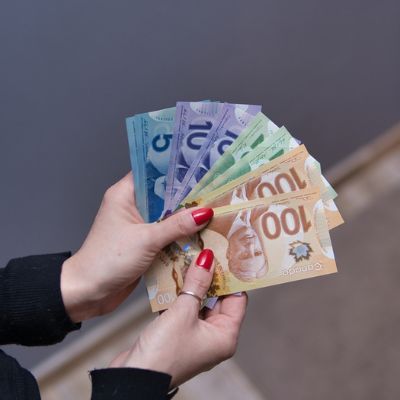 Don't let your portfolio get dragged down by commission fees. Wealthsimple Trade lets you trade for $0 commission, and for a limited time, you can get two free stocks for signing up and funding your account. Will you get Apple stock? How about Air Canada?
Get your free stocks
Wealthsimple's services
There are three different tiers of service you can get with Wealthsimple depending on how much you deposit with them: Wealthsimple Basic, Wealthsimple Black and Wealthsimple Generation.
| Account Type | Minimum Deposit | Management Fee |
| --- | --- | --- |
| Wealthsimple Basic | $0 | 0.5% |
| Wealthsimple Black | $100,000 | 0.4% |
| Wealthsimple Generation | $500,000 | 0.4% |
Wealthsimple Basic: This is the investing service you'll use if you invest under $100,000 with Wealthsimple, so it's where most people start. You get fully managed investments for a 0.5% management fee, automatic deposits to your account, automatic rebalancing (to keep your investments on track) and access to expert financial help.
Wealthsimple Black: Once you deposit over $100,000 with Wealthsimple, you get access to even more great features. You'll get everything included in Basic, plus a lower investment fee of 0.4%, a financial planning session and tax loss harvesting (which is important if you have taxable investments!).
Wealthsimple Generation: Once you deposit over $500,000 with Wealthsimple, you'll get even more goodies, which befits your status as a Very Rich Human, because damn. You'll have a dedicated team of financial advisors, an in-depth financial plan, individualized portfolios and even more advanced investment options.
Who can use Wealthsimple?
Wealthsimple is available for (current and future!) investors and savers in Canada who are over the age of 18.
Who should use Wealthsimple?
Just like any other financial tool or service, Wealthsimple is never going to be the right fit for everyone, but in my experience it's a perfect fit for a few types of people.
You've never invested before, but you want to start. This was me when I started investing. I knew what I should do down cold — invest in low-cost ways, and try to match the market, not beat it. The thing that always tripped me up was how. What are the actual, step-by-step things that need to happen for me to do what I know I should? Wealthsimple takes the guesswork out of it and makes "starting investing" as easy as opening a new account with any kind of tech company. From there, you just transfer money in like you would to a new bank account (if you've never done that before, they have instructions for you!) and Wealthsimple takes your money and invests it.
You really don't want to spend any more time than you have to managing anything. On the list of things I want to think about — much less worry about — on a daily basis, my investments are way, way down there. That's what makes Wealthsimple a great fit for me: I've got my automatic transfers set up, they happen like clockwork twice a month when I get paid, and when I see news about stocks or "the markets," I kind of just shrug. I know Wealthsimple is handling the set-it-and-forget-it investing approach that has been proven to be effective by research and history, so I just never need to think about it. Plus, they rebalance my account for me and handle all the logistics.
You want to invest in a socially responsible way, without too much legwork. One of Wealthsimple's coolest perks, which I've taken advantage of for the entire time it's been available, is switching to a socially responsible investing portfolio. All it took when I made the switch was an email, but since that was years ago, the process might be even easier now.
What should you do after starting with Wealthsimple?
Once you've got your accounts opened with Wealthsimple, the next thing you should do is look at your budget and decide exactly how much you want to commit to investing and saving every month.
Wealthsimple makes it easy to set up recurring contributions right in your Wealthsimple account, and you'll even get to visualize what an extra $10 a month (or $100 a month!) will do to your investment accounts over time. It's a feature that convinced me to put a little bit more into my retirement accounts a few years ago, and to this day is one of my favourite things about using Wealthsimple.
Once you've got those contributions set up, you can edit or delete them if you need to with the click of a button. You might also want to turn on Wealthsimple's Roundup feature, which can help you swing a few extra dollars of savings every month.
Pros of investing in Wealthsimple
From signing up and investing my money for the first time, to the everyday experience of easy investing today, the best part of Wealthsimple has always been that they genuinely want to make it easy for you to invest your money. It's evident in their written content, their video course, their user interface and how easy they make every option for you.
Their defaults are easy to understand and are designed to help you invest successfully. Given that most of the investing world is set up to be intentionally confusing, seeing a company make it dead-simple to invest is — chef's kiss — amazing.
Cons of investing in Wealthsimple
A lot of people, especially those who are willing to spend a bit more time managing their investments, will argue that the worst part of Wealthsimple is their fees (which are covered in depth in the next section).
They're not entirely wrong, since a DIY approach to investing can get your costs down to as low as 0.1% of your invested assets, which is $100 a year for $100,000. If you invested that $100,000 in Wealthsimple, it would cost you about $400 a year based on their Wealthsimple Black pricing, plus the underlying cost of your investments.
The thing is, pricing is about value. I am personally willing to pay a bit more for the services Wealthsimple provides and how easy they make investing. I spend no more time managing my Wealthsimple investments than I do contributing to my savings accounts each month, and that's something I'm willing to pay a bit more for.
Even so, there are other robo-advisors in Canada that may charge lower fees depending on how much money you have to invest. As with anything, it's always worth doing your research and being confident with your choice.
What are the Wealthsimple fees?
Wealthsimple charges a percentage of the money you have invested, which is a common pricing model for most investments, whether you're buying a mutual fund at the bank or investing with an in-person adviser. Luckily, Wealthsimple's prices are significantly lower than both of those options, and they're just as user-friendly.
If you're investing under $100,000 with Wealthsimple, which is where most of us start, you'll pay a flat fee of 0.5% of the money you have invested every year for all the services Wealthsimple offers — and you'll also pay the underlying fees from the ETFs you're invested in, which often average out to about 0.2%. To invest $50,000, you'll pay Wealthsimple $250 a year, plus any ETF fees. That's a steal, since to invest the same amount in a mutual fund charging 2%, you'd pay $1,000 a year.
Plus: Sign up through this link and Wealthsimple will kick in a $50 bonus when you fund your account with $500.
If you're investing more than $100,000, you'll pay a lower fee of 0.4% for Wealthsimple's services, plus the fees your ETFs charge — and you'll also get access to more services with Wealthsimple Black. In addition to everything you get with a basic Wealthsimple account, you also get a financial planning session and tax loss harvesting on taxable investments (i.e. not your TFSA or RRSP).
And if you're really going all in and you invest more than $500,000, you'll pay the same 0.4% flat fee but get even more services from Wealthsimple, including personalized investments and an in-depth financial plan.
Regardless of which tier you're paying for with Wealthsimple, you'll always get free rebalancing and dividend reinvestment, two things that as a beginner, you really don't want to do yourself. Check out Wealthsimple's full pricing page for more details about what you get on each plan.
How do I open an account with Wealthsimple?
You can open an account and be set up to start investing with Wealthsimple in under five minutes, and all you need is an internet connection and a few personal details about yourself (legally, they need to make sure you're you).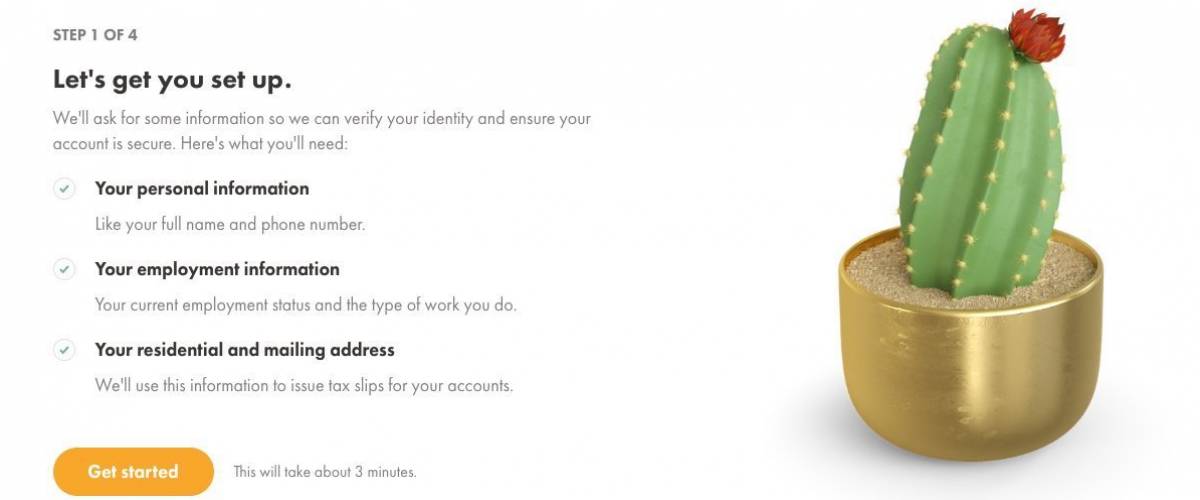 Once that's done, Wealthsimple will ask you a few questions about your finances, like your investment goals and timelines, your current income and savings rate, and your assets and debts. Don't worry if you don't have exact numbers — estimates are fine! They'll use that information to recommend an investment portfolio and risk level that's the best fit for you right now, and you can always change it later if your goals or needs change.
Your last step will be choosing what account you want to set up and how you want to fund your account. You can open a new investing account, like a TFSA or an RRSP, you can transfer an existing account from your current bank or you can open a savings account.
If you're not ready to transfer anything right now, you can always wait and do it later, and the same goes for opening additional accounts. And one thing to remember: Transferring an RRSP or TFSA to a new institution doesn't have any tax implications, and you can manage the whole process in Wealthsimple — no need to call your bank or do anything too complicated. Best of all, if you move over more than $5,000, Wealthsimple will cover the transfer fee charged by your bank!
Final word: What's my Wealthsimple review?
At the end of the day, I strongly recommend Wealthsimple. I personally use the service, and while people are right that there are lower-cost options to invest your money, if you value ease of use and you want a really comprehensive service to take a "set it and forget it" approach to investing, it's a great fit.
And don't forget, if you sign up using this special link Wealthsimple will add an extra $50 to your account when you deposit your first $500.
Sponsored
Invest with ease
From new investors to experts, Qtrade Direct Investing™ offers an intuitive experience with features including in-depth research and powerful tools.
Recognized by The Globe and Mail as a top-ranked broker for the 4th year in a row, you can count on Canada's best online trading support for friendly and responsive client service and online self-help.
Get started today with no minimum investment and now get up to $150 sign-up bonus until June 30, 2023 with promo code BONUS150.
Division of Credential Qtrade Securities Inc.