Vinovest review: 4.5/5
Vinovest is a very good choice for those who want to invest in an alternative asset like wine but don't want to deal with researching, purchasing, storing, and insuring it themselves.
You can get started in literally a few minutes by creating an account on Vinovest's website. To get investing, you'll need to deposit US$1,000, which can be done via a bank account transfer, debit or credit card, paper check or wire transfers. Crypto users can also use popular ones such as Bitcoin and Doge to fund their accounts.
Vinovest supports multiple currencies, including Canadian dollars. It has no legal or operational limits for Canadian investors, but it is important to note that investment amounts are indicated in USD on their website.
Vinovest offers a range of investment options, including a fully-managed portfolio or a self-managed portfolio.
Once you invest, Vinovest stores your wine in a secure facility and assists with selling when you decide to liquidate. There is an annual fee of 1.9% to 2.5% depending on the invested amount.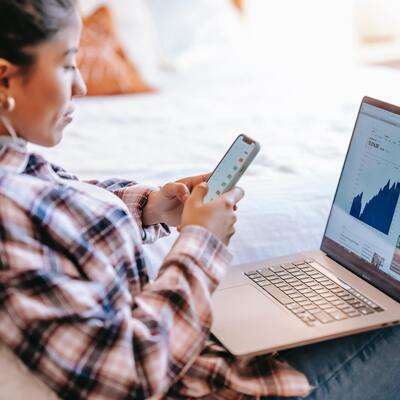 With Qtrade Direct Investing™, you can build, evaluate and test your portfolio using analyst research and tools that feature their most advanced risk analysis and portfolio-building technology.
Now get up to $150 sign-up bonus until June 30, 2023 with promo code BONUS150.
Division of Credential Qtrade Securities Inc.
Get Started
How Vinovest works
There are three portfolios that offer different risk tolerances and investing goals:
Conservative: Optimized for the lowest volatility.
Moderate: Optimized to achieve the highest return with lowest volatility
Aggressive: Optimized for highest annual returns.
Their portfolios are created through a combo of master sommeliers and AI-powered algorithms, with wines selected from various regions.
Once you've made your deposit, Vinovest takes about two to three weeks to purchase the wine below the retail price. Then they'll authenticate, ship and store it securely for you.
Vinovest doesn't allow you to view a list of all the wines available, but its algorithm sorts through numerous vintages from different wine regions. Following a sale, your earnings are reinvested in the portfolio, and Vinovest rebalances the portfolio automatically, similar to many robo-advisors.
Vinovest plans and pricing
Vinovest's Starter plan charges an annual management fee of 2.5%, which decreases to 1.9%, per year for the Grand Cru plan. Which plan is yours? It depends on how much money you deposit.
Annual fee:
Starter: 2.5%
Plus: 2.35%
Premium: 2.15%
Grand Cru: 1.9%
Vinovest also takes a 1.5% cut of sales, but doesn't charge for listing your items for sale.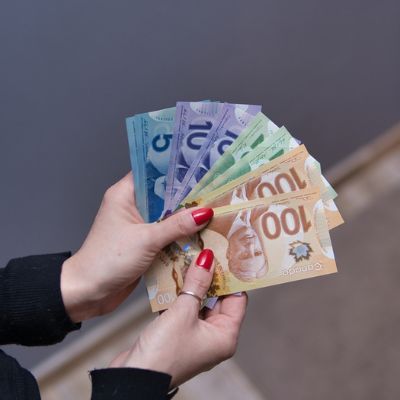 Don't let your portfolio get dragged down by commission fees. Wealthsimple Trade lets you trade for $0 commission, and for a limited time, you can get two free stocks for signing up and funding your account. Will you get Apple stock? How about Air Canada?
Get your free stocks
Vinovest benefits
Low investing minimum
To get started, you only need a minimum investment of US$1,000, which is pretty low compared to other alternative asset investing platforms. Invest more to reach the higher tiers. There you'll have lower annual fees and investors can manually select wines to add to their portfolios.
Low volatility and impressive returns
If the time doesn't deter you, wine's low volatility can offer a stable investment and help to diversify your portfolio. From 2014 to 2021, wine saw an average annual return of just over 6%. Assets such as gold and Bitcoin had a higher combined return, but also faced more volatility.
During an interview with Moneywise Anthony Zhang, CEO and co-founder of Vinovest, Zhang said that Vinovest outperformed the stock market and some other commodities (like gold) in 2022.
According to Vinovest's website, most "investment-grade wine" will take 10 to 15 years to mature. Additionally, wine's value also relies on rarity. As more time passes, a certain vintage may become more rare, adding to its value.
Vinovest serves up wine futures
Besides a portfolio of international wines and a marketplace, Vinovest also has wine futures trading for its Premium and Grand Cru clients. Futures contracts allow investors to buy an asset for a set price and sell it for a certain amount on a specific date. Vinovest curates these offerings and periodically offers them up exclusively for top tier investors.
Insurance and storage
Vinovest stores wine in secure storage facilities throughout multiple countries, including France and Denmark. The facilities are bonded, which eliminates extra taxes and tariffs on the wine during storage.
You have full ownership and access to your wine if Vinovest ever goes out of business. There's also a third-party insurance policy included. So if your wine is mishandled or damaged in a natural disaster, you'll be reimbursed at the market value.
Since Vinovest doesn't sell stocks, it is not regulated by the Securities and Exchange Commission or the Canadian Securities Administrators. However, it undergoes multiple audits a year from insurance providers and a third-party auditor, as it says on their website.
Customer support
Vinovest has a customer support team that can be reached by emailing [email protected] or by calling 213-410-4546.
Where Vinovest could improve
While Vinovest has very user-friendly investing platform, you should consider some shortcomings before you invest.
Annual management fees for Vinovest portfolios range from 1.9% to 2.5%, in addition to trading and storage fees
There are penalties for selling wine within three years of buying
The Vinovest marketplace presently offers less than 100 types of wine, which may not be enough for investors who want a varied collection
Fees for buying (2.5%), selling (1%) and storing (1.5%)
Need to invest at least US$50,000 if you want to customize your portfolio
Prices on website are in USD, which is important to remember when trading
Bottom line
Vinovest has a strong track record and is a leading platform for investing in fine wines.
However, investors should keep in mind that investing with Vinovest is a long-term strategy since wine can take years to appreciate in value. If you're patient as you diversify your portfolio, Vinovest can offer a stable investment choice for Canadian investors.
Sponsored
Invest with ease
From new investors to experts, Qtrade Direct Investing™ offers an intuitive experience with features including in-depth research and powerful tools.
Recognized by The Globe and Mail as a top-ranked broker for the 4th year in a row, you can count on Canada's best online trading support for friendly and responsive client service and online self-help.
Get started today with no minimum investment and now get up to $150 sign-up bonus until June 30, 2023 with promo code BONUS150.
Division of Credential Qtrade Securities Inc.