Marvell Technology (MRVL)
Chipmakers were on fire in 2021, with Marvell Technology being one of the big winners in the space. Even with the recent dip, shares of the Wilmington, Del.-based semiconductor company are up about 45% over the past year.
Marvell reported third quarter earnings Dec. 2. In the following trading session, the stock shot up 18%.
Revenue for the quarter grew 61% year over year to US$1.21 billion. Adjusted earnings per share improved 72% from a year ago to 43 cents.
Currently, Marvell's share price hovers just above US$71. But Goldman Sachs sees significant gains ahead.
The bank upgraded Marvell from neutral to buy on Dec. 3 and raised its price target to US$95, representing about 34% worth of upside from current levels.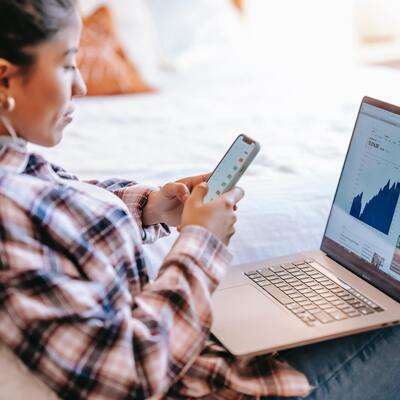 With Qtrade Direct Investing™, you can build, evaluate and test your portfolio using analyst research and tools that feature their most advanced risk analysis and portfolio-building technology.
Now get up to $150 sign-up bonus until June 30, 2023 with promo code BONUS150.
Division of Credential Qtrade Securities Inc.
Get Started
Snowflake (SNOW)
Many consider big data to be the next big thing. And that's where Snowflake found its opportunity.
The cloud-based data warehousing company, founded in 2012, serves thousands of customers across a wide range of industries, including 223 of the Fortune 500.
Snowflake has received more investor attention and now commands a market cap of over US$80 billion.
In the three months ended Oct. 31, revenue surged 110% year over year to US$334.4 million. Notably, net revenue retention rate was a solid 173%.
The company continued to score large customer wins. It now has 148 customers with trailing 12-month product revenue of more than US$1 million, compared to 65 such customers a year ago.
Goldman Sachs recently raised the price target on Snowflake shares to US$390 — about 52% higher from current levels — and maintained its buy rating for the company.
Snowflake has traded recently at about US$250 per share. But you can get a piece of the company using a popular stock trading app that allows you to buy fractions of shares with as much money as you're willing to spend.
Weave Communications (WEAV)
With a market cap of roughly US$650 million, Weave Communications is substantially smaller than the names mentioned above. But according to Goldman, it could be one of the biggest opportunities in the market.
Weave offers an all-in-one customer communications platform for small businesses. The platform helps those operations attract, communicate with, and engage customers to grow their business.
The company went public on Nov. 11 at an IPO price of US$24 per share. But the stock hasn't exactly been a Wall Street darling. Today it's at about US$9.
In Q3, Weave added 1,326 new customer locations, bringing its total sites to 22,553. Revenue came in at US$30.3 million, up 42% year over year.
Goldman initiated coverage of Weave on Dec. 6 with a buy rating and a US$37 price target, saying that the current share price represents a "compelling entry point."
Based on where Weave stock is at right now, Goldman's price target translates to whopping potential upside of 310%.
Remember, if you don't want to pick individual stocks in today's volatile market, you can always build a diversified portfolio automatically by using just your "spare change."
Sponsored
Invest with ease
From new investors to experts, Qtrade Direct Investing™ offers an intuitive experience with features including in-depth research and powerful tools.
Recognized by The Globe and Mail as a top-ranked broker for the 4th year in a row, you can count on Canada's best online trading support for friendly and responsive client service and online self-help.
Get started today with no minimum investment and now get up to $150 sign-up bonus until June 30, 2023 with promo code BONUS150.
Division of Credential Qtrade Securities Inc.