Bitcoin-related equities
Lee has long been a proponent of cryptocurrencies. In October 2021, he said that the price of bitcoin could soar to as high as US$168,000.
While bitcoin has pulled back over 20% year to date — it now trades at around US$37,500 apiece — Lee still considers it as one of his top plays.
He likes bitcoin over other cryptocurrencies because it's highly liquid and relatively safe from a regulatory perspective.
"We know that in February there may be some executive order coming from the White House, and that might make bitcoin a lot more appealing," Lee said.
Investors can buy bitcoin directly, but there are several publicly traded companies that have tied themselves to the crypto world.
Enterprise software technologist MicroStrategy purchased approximately 660 bitcoins between Dec. 30, 2021 and Jan. 31, 2022, bringing its total bitcoin count to 125,051 — a stockpile worth roughly US$4.7 billion.
Investors can also check out Coinbase, which runs the largest cryptocurrency exchange in the U.S. It earns a transaction fee every time someone buys or sells on the platform.
MicroStrategy and Coinbase shares are down 40% and 28%, respectively, year to date. If bitcoin makes a comeback, these stocks will likely spike in step.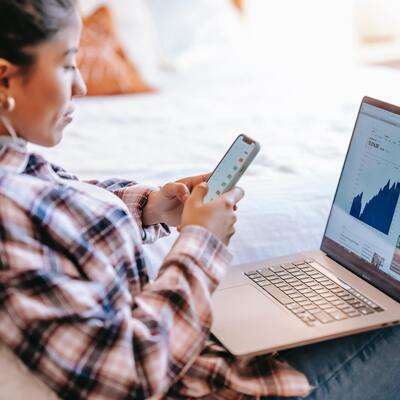 With Qtrade Direct Investing™, you can build, evaluate and test your portfolio using analyst research and tools that feature their most advanced risk analysis and portfolio-building technology.
Now get up to $150 sign-up bonus until June 30, 2023 with promo code BONUS150.
Division of Credential Qtrade Securities Inc.
Get Started
Energy stocks
Lee has been very bullish on energy stocks over the past year, even telling investors last summer to HODL — an acronym for "hold on for dear life."
And he's been bang-on. Fueled by rising energy prices, energy was the S&P 500's best-performing sector in 2021, returning a total of 53.4% vs the index's 28.7% total return.
The sector's upward momentum has carried into 2022.
While the broad market is deep in the red so far this year, energy stocks keep on climbing.
The Energy Select Sector SPDR Fund (XLE) is already up 18.5% year-to-date. Oil giants like ExxonMobil and ConocoPhillips are up more than 20% in 2022.
FAANG
FAANG, which stands for Facebook (now Meta), Amazon, Apple, Netflix and Google (now Alphabet), is another group that Lee is bullish on.
As the largest players in their respective verticals, these mega-cap tech stocks have been in high demand for years. But a few of them are getting pummeled at the moment.
Netflix shares plunged 22% following its Q4 earnings release, due to subscriber growth concerns.
Meta, which owns some of the largest social media and messaging apps in the world — Facebook, Instagram, WhatsApp and Messenger — sank 26% on Thursday on weaker-than-expected revenue growth for the next quarter.
E-commerce king Amazon popped as much as 8% Thursday after posting a solid earnings beat. But it's still off about 20% from its 52-week highs set in July.
Apple and Google are down slightly in 2022 despite posting solid quarterly results recently.
For long-term investors that have been waiting patiently on the sidelines, it might be a prime opportunity to finally buy the group.
And if you're nervous about stocks and looking for an investment that doesn't move with the stock market, consider fine art.
Once limited to the rich, blue-chip art is now accessible to everyday investors through a new trading platform that lets you invest in art with as much money as you're willing spend.
Sponsored
Invest with ease
From new investors to experts, Qtrade Direct Investing™ offers an intuitive experience with features including in-depth research and powerful tools.
Recognized by The Globe and Mail as a top-ranked broker for the 4th year in a row, you can count on Canada's best online trading support for friendly and responsive client service and online self-help.
Get started today with no minimum investment and now get up to $150 sign-up bonus until June 30, 2023 with promo code BONUS150.
Division of Credential Qtrade Securities Inc.