Pizza Pizza Royalty (PZA)
Dividend yield: 6.25%
There's a big difference between investing in a retail location or food chain, and a royalty company. If you're investing in a food chain, for example, you have to pay attention to things like revenue, earnings, income and more. But when you invest in a royalty company like Pizza Pizza Royalty (PZA), it's a different story.
Here, investors get stable income because the fund receives stable income. The company owns and franchises its restaurants under Pizza Pizza, as well as 73 other brands in Canada. It simple collects the funds needed to use the franchise name each month. Which is why investors then receive those funds through dividends on a monthly basis.
Pizza Pizza Royalty has been around since 1967, and is still doing quite well. It's a fairly valued choice and offers a 6.25% dividend yield as well. At $13.87 a $5,000 investment could potentially bring in $313.20 annually, or $26.10 each month.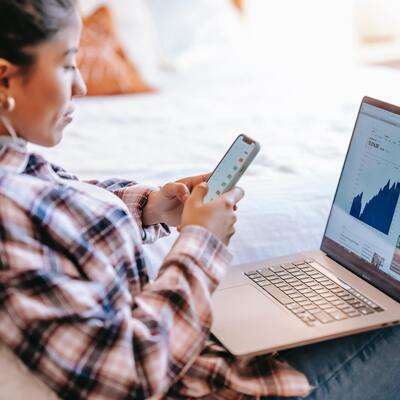 With Qtrade Direct Investing™, you can build, evaluate and test your portfolio using analyst research and tools that feature their most advanced risk analysis and portfolio-building technology.
Now get up to $150 sign-up bonus until June 30, 2023 with promo code BONUS150.
Division of Credential Qtrade Securities Inc.
Get Started
First National Financial (FN)
Dividend yield: 6.3%
Now granted, financial institutions tend not to do so well during economic downturns and recessions. First National Financial (FN) isn't an exception here, with shares down 1% in the last year. Yet there's a clear reason for this, and that's rising interest rates.
First National stock services commercial and residential mortgages across Canada. Sure, this was great when housing sales and prices were hight, but in this current climate many Canadians have taken a breather when it comes to needing a new mortgage. After peaking in the fourth quarter of 2020, mortgage refinancing and renewals have decreased by 32%, according to the most recent data from the Canada Mortgage and Housing Corporation (CMHC).
A correction may have been needed, but with only a mild recession on the way, there's likely to be an improvement coming soon. That will include for First National stock, which has still managed to see net income and revenue climb year-over-year, as of the 2022 annual earnings report.
So with shares down now, they won't remain down forever, which is why now is a good time to consider it. This along with the 6.3% dividend yield could be quite valuable. Again, if you were to invest $5,000 now, that could bring in $310.80 annually as of writing, or about $25.90 each month.
Dream Residential REIT (DRR.U)
Dividend yield: 5.53%
Coming in at the lower end is Dream Residential Real Estate Investment Trust (DRR), which has also been hit by the housing drop. The benefit here, however, is that this REIT is quite new. Its initial portfolio consists of 16 "garden-style" multi-residential properties. Furthermore, it's not only located in Canada.
Instead, Dream expanded to the Sunbelt and Midwest regions of the United States. These regions have seen a large influx of Americans seeking out homes that offer a better lifestyle. In fact, according to a study by United Van Lines, Americans left highly populated areas for warmer, less populated areas in the sunbelt and Midwest.
Given this trend, it looks like Dream Residential is making the right moves. Shares may be down 27.9% in the last year in this poor economic environment. So when interest rates fall once more, there could be quite the turnaround for investors.
Meanwhile, investors can still receive a substantial monthly dividend from Dream Residential right now. At 5.53%, it would bring in $246.15 annually from a $5,000 investment as of writing. That would come out as about $22.01 each month.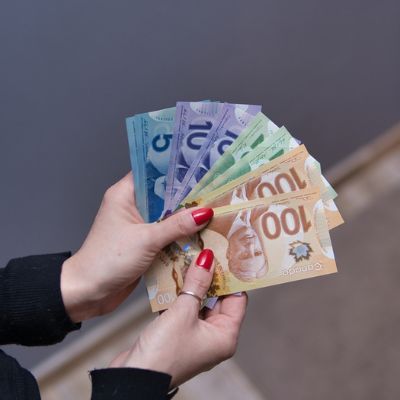 Don't let your portfolio get dragged down by commission fees. Wealthsimple Trade lets you trade for $0 commission, and for a limited time, you can get two free stocks for signing up and funding your account. Will you get Apple stock? How about Air Canada?
Get your free stocks
Build your own dividends
There you have it, three TSX stocks to consider if you are looking for monthly passive income.
Those looking to take control of their investments should certainly explore online trading platforms. The best sites offer resources and tools to help investors make informed decisions as they build and manage their investment portfolios.
Not quite ready? Going with a robo-advisor can also be a stress-free way to start investing.
Or, if you're looking for something really different, try investing in shares of the art world's greatest masterpieces by artists like Banksy, Monet and Warhol.
Sponsored
Invest with ease
From new investors to experts, Qtrade Direct Investing™ offers an intuitive experience with features including in-depth research and powerful tools.
Recognized by The Globe and Mail as a top-ranked broker for the 4th year in a row, you can count on Canada's best online trading support for friendly and responsive client service and online self-help.
Get started today with no minimum investment and now get up to $150 sign-up bonus until June 30, 2023 with promo code BONUS150.
Division of Credential Qtrade Securities Inc.