Electronic Arts (EA)
Just like Activision Blizzard, Electronic Arts is deeply entrenched in the video game industry. The company develops games for personal computers, gaming consoles and mobile devices.
Founded in 1982, EA has a portfolio of established franchises, such as Battlefield, The Sims, Need for Speed, and soccer franchise FIFA. In the company's fiscal 2021, it brought in US$5.6 billion of revenue.
And things have continued to improve in 2022. In Q2, ended Sept. 30, 2021, net bookings — the net amount of products and services sold — totaled US$1.85 billion, representing a 103% increase year over year.
EA is also returning cash to investors. It repurchased 2.3 million shares for US$325 million during the September quarter and currently pays a quarterly dividend of 17 cents per share.
EA shares rose about 2.5% Tuesday after the Microsoft-Activision acquisition news, on speculation that the company's large user base could be attractive to big tech who want in on the gaming action.
In the first six months of EA's fiscal 2022, approximately 100 million players across all platforms engaged with its global soccer franchise. The company's mobile game Star Wars: Galaxy of Heroes has surpassed 100 million players life to date.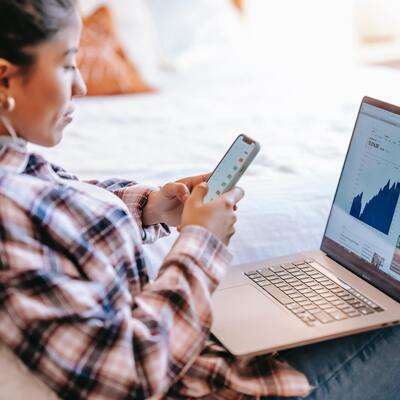 With Qtrade Direct Investing™, you can build, evaluate and test your portfolio using analyst research and tools that feature their most advanced risk analysis and portfolio-building technology.
Now get up to $150 sign-up bonus until June 30, 2023 with promo code BONUS150.
Division of Credential Qtrade Securities Inc.
Get Started
Roblox (RBLX)
Roblox enables users to spend hours playing games in block-based worlds. It also allows creators to get paid through an in-game currency called Robux.
The company went public in March 2021 through a direct listing and closed at US$69.50 on its first day of trading. Shares surged to over US$140 apiece in November, but they weren't able to continue that upward momentum.
At the time of this writing, Roblox stock trades at US$76.22 per share — a pullback of over 45% from its peak.
While the stock had a rollercoaster ride, the company's business was growing rapidly.
In Q3, the platform had 47.3 million average daily active users, up 31% year over year. Revenue rose 102% year over year to US$509.3 million.
Engagement is where Roblox stands out.
"We're very pleased that during the third quarter, people of all ages from across the globe chose to spend over 11 billion hours on Roblox," said CEO David Baszucki in the latest earnings press release.
One of the reasons behind the platform's success is its ability to attract developers. Roblox said that the developer community earned over US$130 million in Q3 and was on track to earn more than US$500 million for the full year.
Roblox is already a big company commanding a market cap of over US$44 billion. But in today's world, there are mega-cap tech giants with enough cash to put Roblox on their shopping list.
Something to hedge that stock trade
Stock markets being as volatile as they are, it's always good to have something to offset those investments. For many wealthy people, one option has been fine art, whose value is known to have very little correlation with stocks.
Those who couldn't afford the large sums involved in buying blue-chip art were always shut out of the market. But now, thanks to a new platform, retail investors can also reap the benefits of investing in artworks.
Sponsored
Invest with ease
From new investors to experts, Qtrade Direct Investing™ offers an intuitive experience with features including in-depth research and powerful tools.
Recognized by The Globe and Mail as a top-ranked broker for the 4th year in a row, you can count on Canada's best online trading support for friendly and responsive client service and online self-help.
Get started today with no minimum investment and now get up to $150 sign-up bonus until June 30, 2023 with promo code BONUS150.
Division of Credential Qtrade Securities Inc.