Best investing app for beginners: BMO Invest
Investing seems incredibly daunting, especially if you want to get into self-directed investing without knowing where to start. If this sounds like you, then consider BMO adviceDirect, which is accessible via the BMO Invest App.
BMO adviceDirect is a hybrid online investing platform. It combines online investing with personalized advice and support as needed, making it a pretty unique investment option for Canadians who are just getting started.
Services include 24/7 portfolio monitoring (via the MyAdvice tool on the BMO Invest app), buy and sell recommendations based on your risk tolerance and, of course, dedicated professional advice as needed.
More from Moneywise
BMO adviceDirect is ideal for Canadians who want to choose their own investments and try their hand at active investing, but are concerned that they may not have the time or knowledge yet to do so.
While BMO adviceDirect is great for beginners, the minimum investment amount of $10,000 is quite substantial, so you need to be seriously interested. It's also important to note that the fees are quite high, so once you get comfortable with the process it may be in your best interest to move on to another trading platform.
BMO adviceDirect Summary
Fees: 0.75% for all assets between $10,000 and $500,000. Maximum fee of $3,750 for investments over $500,000.
Minimum investment amount: $10,000
Account types: RRSP (individual and spousal), TFSA, non-registered accounts, LIRA, RESP, RRIF (individual and spousal), corporate accounts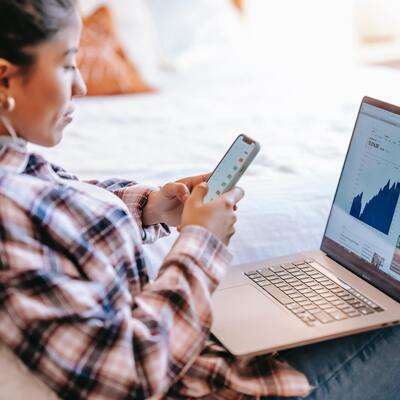 With Qtrade Direct Investing™, you can build, evaluate and test your portfolio using analyst research and tools that feature their most advanced risk analysis and portfolio-building technology.
Now get up to $150 sign-up bonus until June 30, 2023 with promo code BONUS150.
Division of Credential Qtrade Securities Inc.
Get Started
Best investing app for people with only a small amount of money: Moka
Those who don't think that they have enough money to get started in investing should look at Moka. Formerly known as Mylo, Moka is an automated savings app that requires little work or planning.
Plus, since it runs on the idea of micro-investing, Moka helps you save without having to make major changes to your lifestyle.
So, how does Moka work? Through the simple technique of rounding up. For example, let's say you go to Starbucks for a coffee and spend $4.25. Moka will round up the purchase to $5.00 and put that extra $0.75 into your Moka account.
This will happen for all purchases throughout the week and then every Monday the roundups from the week before will be invested into a Moka investment account on your behalf. You can choose what type of account you want the money to go into and are able to withdraw from it as needed.
In addition to the round-up function, you can also choose to grow your savings faster by choosing a recurring investment option. With recurring investments you can deposit a fixed amount every week into your investments on top of the usual roundups.
There is also the roundup multiplier, which allows you to multiply your roundup savings. For example, if you select a multiplier of five, the $0.75 from that Starbucks coffee purchase will become $3.75. Lastly, you can choose to invest a one-time lump sum deposit into your account whenever you desire.
Moka is a great option for anyone who struggles to put down a large sum of money to invest at once, or even just someone who struggles to save in general. Since it is automated and there are no minimum investment requirements, Moka can work for everyone.
Moka Summary
Fees: $3.99/month
Minimum investment amount: none
Account types: TFSA, RRSP, non-registered account
Best investing app for active traders: Questrade
If you are interested in active trading then the best investing app for you might be Questrade. Questrade is Canada's largest independent brokerage. It is also consistently considered to be Canada's top discount brokerage.
Investors can purchase ETFs, stocks, bonds, mutual funds, GICs, precious metals, international equities, IPSs and options. As an investor, you will maintain full control over your portfolio and can trust that you are saving on fees, especially in comparison to what a financial advisor with a big bank would charge. If you are an active trader, you can save even more on Questrade fees.
Questrade is a favourite among seasoned active traders, but can be very user-friendly for those new to the scene as well. The sign-up process is straightforward and easy to follow, and the minimum balance of $1,000 is reasonable for most people looking to invest.
Questrade's smartphone app makes it easy to buy and sell from anywhere on the go but it's worth noting that they also have a browser option as well as a downloadable platform for your desktop, which some investors prefer. Questrade also has an excellent reputation for customer service, which is available via online chat, telephone, or email.
Competitive fees, ease of use, and varied investment options make Questrade a great pick for active traders.
Questrade Summary
Fees: Fees will be charged relative to the type of investment. No annual fee.
Minimum deposit to begin trading: $1,000
Account types: TFSA, RRSP, RESP, LIRA, RIF, LIF, Corporate, Margin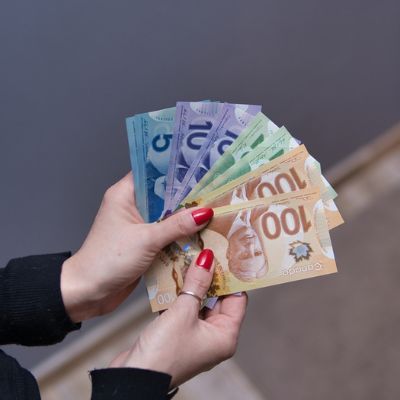 Don't let your portfolio get dragged down by commission fees. Wealthsimple Trade lets you trade for $0 commission, and for a limited time, you can get two free stocks for signing up and funding your account. Will you get Apple stock? How about Air Canada?
Get your free stocks
Best investing app for automated investing: Wealthsimple
If you would like to get into investing but don't have the time or interest to do the work yourself, but still want to save on fees, then you should look at a robo advisor for automated investing. In this case, Wealthsimple is a great choice.
Wealthsimple is frequently named as the top robo advisor in Canada for investors of all levels. The Wealthsimple app is streamlined and easy to use no matter your investing experience.
There are a number of account types to choose from, including registered and non-registered accounts and three general account types: Wealthsimple Basic, Wealthsimple Black, and Wealthsimple Generation. The account type depends on the amount you have invested.
All account types come with myriad features including personalization, automatic rebalancing, dividend re-investing, free financial advice, and more. Wealthsimple Black and Wealthsimple Generation also have additional perks and benefits for clients, meaning the more you invest, the more advantages you get.
Wealthsimple also allows investors to choose socially responsible investments (SRI) or halal investment options. Additional perks of Wealthsimple include "overflow" and "roundup" features, both of which will allow you to funnel more money into your investment accounts, allowing you to save more money at a faster rate.
Wealthsimple Summary
Management fees: Wealthsimple Basic: 0.50% per year for accounts under $100,000. Wealthsimple Black: $0.40% per year for accounts between $100,000-$500,000. Wealthsimple Generation: 0.4% per year for accounts over $500,000.
Minimum account size: $1
Types of accounts: TFSA, RRSP, RRIF, LIRS, RESP, non-registered accounts (personal and joint), and corporate investment accounts
Best Investing App for self-directed investing: Qtrade Direct Investing
If you are looking for the best investing app for self-directing investing options, then Qtrade is worth your consideration.
Consistently named one of the best online brokerages in Canada, award-winning Qtrade offers a variety of account types and investment options for both passive and active traders. Investment options include ETFs, stocks, options, mutual funds, GICs and bonds.
Trading fees with Qtrade are a bit higher than some of the other online brokerages, but are competitive in comparison to fees offered by big bank platforms. Additionally, if you are an active trader (150 trades or more per quarter) you can take advantage of a discount. Similarly, investment balances of at least $500,000 will enjoy commission discounts.
Other perks and advantages include discounts for young investors (between the ages of 18 and 30) and commission-free trading on 100+ ETFS (no minimum order). The Qtrade Investor app will also provide an overview of your portfolio to assist you in making better investment decisions.
Qtrade Summary
Fees: Fees depend on the type of investment. Be aware of the inactivity fee ($25/quarter if you hold less than $25,000 and don't place a minimum number of trades within the designated period).
Minimum deposit to begin trading: none
Types of accounts: RRSP, TFSA, non-registered accounts, margin accounts, LIRA, LRSP, RESP, RIF, LIF, spousal RSP and spousal RIF
Best investing app for alternative investments: CoinSmart
For those investors looking to get into cryptocurrency , either just on its own or to invest further for things like buying NFTs, then you will need to choose a platform that deals specifically in cryptocurrency investments.
There are several options available to Canadians. However, CoinSmart is the platform and investing app that continually comes out on top.
CoinSmart's goal is to make cryptocurrency accessible to everyone, no matter your trading experience. The app is streamlined to be easily usable for newbie crypto traders, but there are also a number of tools and options for more experienced traders.
Signing up for CoinSmart is fast and easy. The platform offers instant verification through Equifax, which means that you can get started right away. Traders can fund their account with credit or debit cards and will have access to 24/7 customer support.
CoinSmart has competitive fees compared to other crypto trading platforms and a strong security system in place requiring Google two-factor authentication and a six-digit numerical code every time you log in.
Investors have access to 16 different cryptocurrencies including Bitcoin, Ethereum, Dogecoin, Shiba Inu, Chainlink, Uniswap, Polygon, Avalance, Solana, Litecoin, Polkadot, and more. They also offer crypto wallets to hold your assets.
While there are other cryptocurrency trading apps out there that offer access to more types of cryptocurrency, CoinSmart's reputation still puts it on the top of the list for the best investing app for cryptocurrency in Canada, no matter your level of experience.
CoinSmart Summary
Trading fees: 0.20% for a single trade or 0.30% for double trade
Please read the fine print as rules may apply
Types of cryptocurrencies available: 16
CoinSmart wallet: Yes
Are investing apps safe?
While the idea of being able to check your investments from your mobile device is an attractive one, there are some safety concerns to be mindful of. As far as investment platforms go, the investing apps listed here are legitimate and safe.
However, it's up to you to be mindful of your personal information and, of course, your mobile device. One of the best things you can do when using investing apps is to log in every time. Do not let your device remember your log in information and password.
This security step may make things a little slower, but it's an extra layer of protection to guard your investments.
The opinions expressed in this article are solely my own, conveying my personal experience with the listed products. Other customers' outcomes may differ. Logo & Accolade Licensing
Sponsored
Invest with ease
From new investors to experts, Qtrade Direct Investing™ offers an intuitive experience with features including in-depth research and powerful tools.
Recognized by The Globe and Mail as a top-ranked broker for the 4th year in a row, you can count on Canada's best online trading support for friendly and responsive client service and online self-help.
Get started today with no minimum investment and now get up to $150 sign-up bonus until June 30, 2023 with promo code BONUS150.
Division of Credential Qtrade Securities Inc.