How does debt consolidation work?
Managing multiple credit cards can be overwhelming, especially if you're juggling different due dates and interest rates.
When you consolidate your debt, you're basically trading in all of your existing bills for a single loan at a much lower rate.
You'll only have one payment to make each month, and if you choose a fixed plan you'll know the exact date when your debt will be fully paid off.
You'll also be able to set the terms of your loan based on your financial goals — you can go with a shorter repayment plan if you want to become debt-free sooner, or a longer plan if you just want to reduce your monthly payment.
Services like Loans Canada can help you find the lowest rate available to you on debt consolidation loans from Canada's top lenders.
All you have to do is fill out a simple application form and you get matched with the best option for your specific financial needs.
Depending on how much interest you currently pay on your cards consolidating your debts could save you thousands of dollars.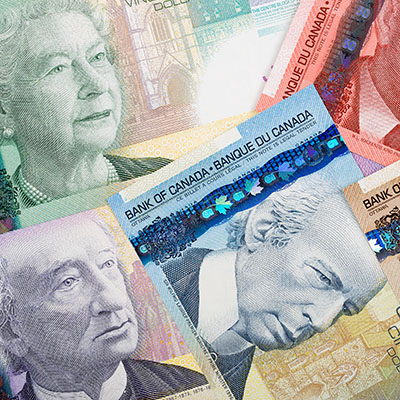 Good credit is important for your financial health, and Borrowell can help you take a turn for the better. Sign up for Borrowell to get your credit score and credit report for free!
Sign up
Here's how much you could save
Let's say you owe $15,000 on two different credit cards at two different interest rates:
| | Total Owed | Interest Rate | Minimum Payment |
| --- | --- | --- | --- |
| Credit card #1 | $10,000 | 22% | $300 |
| Credit card #2 | $5,000 | 18% | $150 |
With just the minimum monthly payments, it'll take you over 25 years to fully pay off your debt, and you'll spend $19,907 in interest alone. Yikes.
But with a good credit score and assuming you're able to consolidate your debt into a 48-month loan at 8% interest, you can lower your monthly payment by $83, save $17,330 in interest, and pay off your debt more than 21 years sooner.
That's a huge difference.
A simple way to break free from debt
With the threat of another lockdown growing, cut yourself loose from your high-interest credit cards.
Loans Canada can help you consolidate your credit card bills, avoid spending thousands of dollars extra on interest, and clear your debt years — or possibly decades — sooner.
So take the first step towards financial freedom and apply today.
Sponsored
You're 5 minutes away from the best mortgage
Searching for your perfect mortgage shouldn't be hard.
Homewise is an online brokerage that will negotiate on your behalf with more than 30 big banks and other lenders, completely free, and it only takes five minutes to apply.
If you're in the market for a new mortgage, or if you're looking to refinance before interest rates rise again, go to Homewise now and answer a few simple questions to get started.